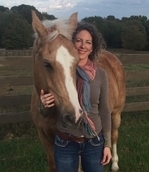 Originally from the Berkshire Hills of Western Massachusetts, I've lived near the Adirondack Mountains of New York where I worked in Real Estate. I've also resided in Vermont where I continued my career I began in Western Massachusetts in the optical industry. With all of the beautiful places I've lived and worked I've finally found my home in Middle Tennessee.
Working with United Country Real Estate Leipers Fork is my dream come true! I truly adore the Leipers Fork community as it is where I fell in love with Tennessee. I was embraced by this community many years ago and continue to grow relationships with the residents and visitors of this area. 
In addition to a passion for Real Estate I have a passion for horses as well. I have been a horse woman pretty much since I could form sentences. I enjoy traveling and seeing the countryside with my Quarter Horse "Steel" who's been with me since he was 6 months old. I understand needs of horse people and the qualities needed and desired in a horse farm. I love working with horse enthusiasts and also specialize in any type of lifestyle property with both buyers and sellers. I put 100% effort into everything I do for my clients and customers.  
My philosophy is live where you would vacation!
Nora Chalifoux 's Listings